Wellness 2019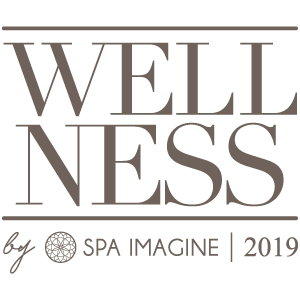 Wellness hosted by Spa Imagine in collaboration with Mindfulhabits provides a luxury wellness experience dedicated to igniting your inner muse and deepening your connection with yourself, nature and others while enhancing your authentic beauty both inside and out.
Finding Balance
Designed to help guests unwind and learn new techniques to nurture the mind, body and spirit, this event provides the motivation to take that healthy lifestyle to a whole new level.
The annual wellness event, organized by Spa Imagine, is committed to helping guests attain a renewed feeling of well-being and profound health.
Special Guests
Enriching your experience at Wellness 2019, we have invited a number of inspiring wellness experts, yoga teachers, fitness coaches and lifestyle bloggers to guide you towards happy and healthy habits.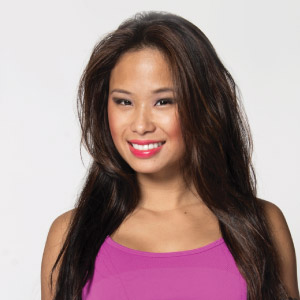 19 · 20 · 21 · 22
Salila Thuy
Fit-Yasa Yoga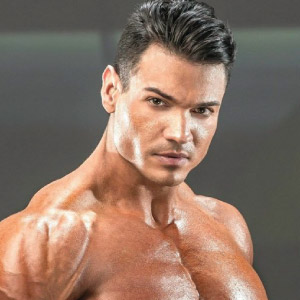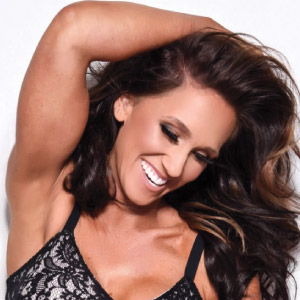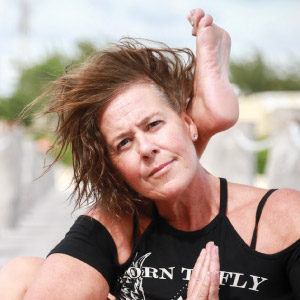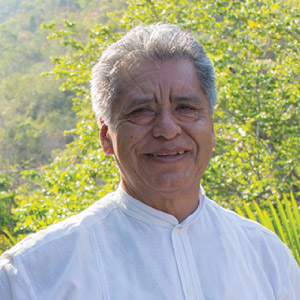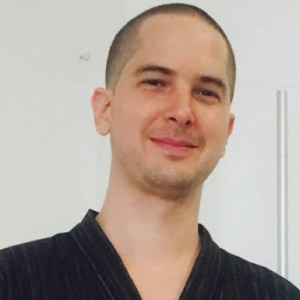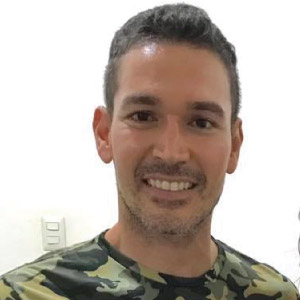 Activities Program
Wellness 2019
Inspiring Wellness - One vacation can change your life! Jump start a healthy lifestyle and indulge in special wellness events at the annual Wellness retreat at Garza Blanca Preserve and Hotel Mousai. Our program of activities is dedicated to your physical, mental and spiritual health to refresh your senses and inspire positive lifestyle choices.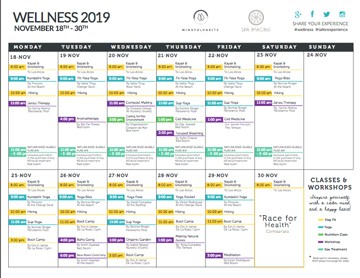 Classes & Workshops Calendar:
Download PDF
Classes & Workshops Calendar NOVEMBER 18 - 30, 2019
Monday 19

8:00 A.M.

Kayak & Snorkeling

To Los Arcos

9:00 A.M.

Kundalini Yoga

At The Beach

By Procoro

10:45 A.M.

Opening Ceremony

At The Gym

11:00 A.M.

Boot Camp

At The Gym

Jamie & Erik de la Rosa

Tuesday 20

8:00 A.M.

Kayak & Snorkeling

To Los Arcos

9:00 A.M.

Boot Camp

At The Beach

By Jamie & Erik

10:00 A.M.

Janzzu Class

At Panoramic Pool

By Gema Yerena

2:00 P.M.

Healty Food

At The Terrace

by Jamie De la Rosa

Wednesday 21

8:00 A.M.

Kayak & Snorkeling

To Los Arcos

9:00 A.M.

Kundalini Yoga

At The Beach

By Procoro

10:00 A.M.

Hiking Advanced

11:00 A.M.

Boot Camp

At The Gym

By Jamie & Erik de la Rosa

1:00 P.M.

Baño Gong

At Red Room

By Iorch Quetzal

Thursday 22

8:00 A.M.

Kayak & Snorkeling

To Los Arcos

9:00 A.M.

Boot Camp

At The Beach

By Jamie & Erik

11:00 A.M.

Janzzu Class

At Panoramic Pool

By Gema

2:00 P.M.

Natural Juice Workshop

At The Terrace

Friday 23

8:00 A.M.

Kayak & Snorkeling

To Los Arcos

9:00 A.M.

Kundalini Yoga

At The Beach

By Procoro

10:00 A.M.

Hiking Advanced

10:30 A.M.

Boot Camp

At Orange Deck

By Jamie & Erik

1:00 P.M.

Womb Blessing Meditation (English)

At Red Room

By Miri Metztlixóchitl

6:00 P.M.

Traditional Mexican Full Moon Ceremony

At the Beach

By Miri Metztlixóchitl

Saturday 24

8:00 A.M.

Kayak & Snorkeling

to Los Arcos

9:00 A.M.

Fit-Yasa Yoga

At Orange Tree

By Salila Thuy

11:00 A.M.

Boot Camp

At The Gym

By Jamie & Erik

1:00 P.M.

Meditation Sesion

At Red Room

By Victor Rodriguez

Sunday 25

Monday 26

8:00 A.M.

Kayak & Snorkeling

to Los Arcos

9:00 A.M.

Fit-Yasa Yoga

At Orange Deck

By Salila Thuy

10:00 A.M.

Hiking Advanced

11:00 A.M.

SupYoga

At Panoramic Pool

By Bonnie Ringer

2:00 P.M.

Macrobiotic food

At The Terrace

By Lizbeth Navarro

Tuesday 27

8:00 A.M.

Kayak & Snorkeling

To Los Arcos

9:00 A.M.

Fit-Yasa Yoga

At The River Deck

By Salila Thuy

11:00 A.M.

Supyoga

At Panoramic Pool

By Bonnie Ringer

4:00 P.M.

Aromatherapy Workshop

At Red Room

By Ibis de Teresa

Wednesday 28

8:00 A.M.

Kayak & Snorkeling

To Los Arcos

9:00 A.M.

Yoga Bliss

At River Deck

By Bonnie Ringer

10:00 A.M.

Hiking Advanced

Thursday 29

8:00 A.M.

Kayak & Snorkeling

To Los Arcos

9:00 A.M.

Yoga Bliss

At The Beach

By Bonnie Ringer

Friday 30th

8:00 A.M.

Kayak & Snorkeling

To Los Arcos

9:00 A.M.

"Race for health"

From Comisariato

11:00 A.M.

Supyoga

At Panoramic Pool

By Bonnie Ringer